August 1, 2022

See a rare ride-through of "Dark River" shot by Robert Krasinski in 1998. "Dark River" would eventually become "Pirates of Wildwood" in 2004.
---
July 27, 2022

See a complete ride-through of "Dante's Dungeon" on Morey's Surfside Pier in Wildwood, NJ. This was recorded by Bill Cherkasky in July of 2022.
---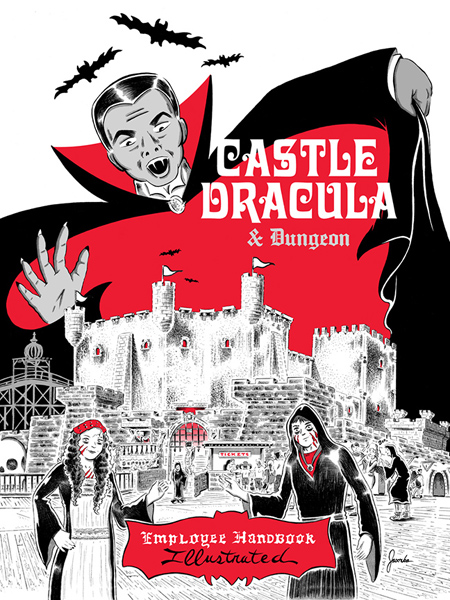 On Saturday, August 13th from 12-3 pm there will be a release party for 'Castle Dracula & Dungeon: Employee Handbook Illustrated' by Mike Jasorka. Books will be available for purchase at the event. Come dressed as a cast member and get $5 off your book purchase. Meet former cast members and one of the owner/operators of Castle Dracula himself, John Nickels!

Jasorka is an illustrator and comic book publisher who also published "Wildwood Days of Doo Wop" and "Mr. Fascination".

Get more details about the event on Facebook.
---
July 18, 2022

Watch this complete walk-through of the the International Monster Museum in Salem Massachusetts.
---
July 13, 2022

Check out this 8mm movie footage of Walt Disney World's Magic Kingdom from 1972.
---
July 10, 2022

Dark in the Park visited Waldameer Park in Erie, PA, to report on their two classic Bill Tracy attractions.
---
June 29, 2022

Check out this footage of "Haunted Golf" located on the boardwalk in Ocean City, New Jersey.
---
June 29, 2022

Watch a complete ride-through of "Pirates of Wildwood" which is located on Morey's Mariner's Pier in Wildwood, New Jersey. This attraction just opened after being closed the last two summers due to the pandemic.
---
June 29, 2022

Check out some footage of Orlando's now defunct "Skull Kingdom" from 2002.
---
October 17, 2021

Bill Cherkasky and his two kids review Dorney Park's Halloween Haunt from October 15th, 2021. They rate all of the Halloween mazes on a scale of 1 to 10.
---
Bill and Liam Cherkasky return to Six Flags Great Adventure to check out their Halloween themed event. Due to Covid-19, the event was scaled down and called "Hallowfest" rather than their usual "Fright Fest". We visited on September 26th and did all four Halloween mazes. Check out our VLOG here.
---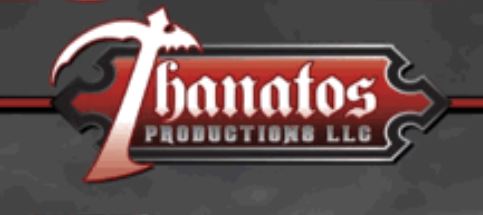 Michael Yannette, former operator of a haunt in Seaside Heights, started creating haunt nostalgia pieces for New Jersey Haunts of the past. Check out his work here: https://thanatosproductions.com/collections/haunt-nostalgia
---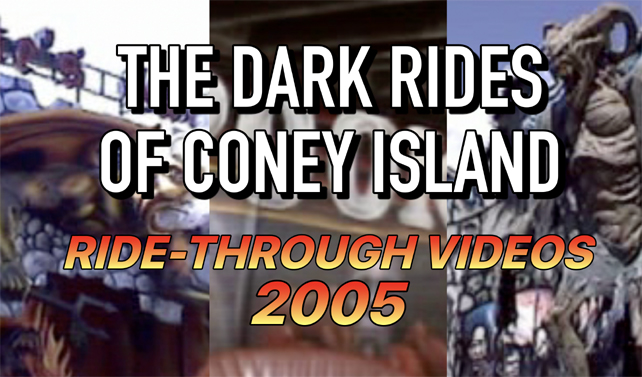 March 29, 2020

We uploaded three dark ride ride-throughs sent to us by Nick Mancini onto our YouTube Page. The three ride-throughs were recorded in Coney Island, NY in 2005 and include Dante's Inferno, Spook-a-Rama and Ghost Hole.
---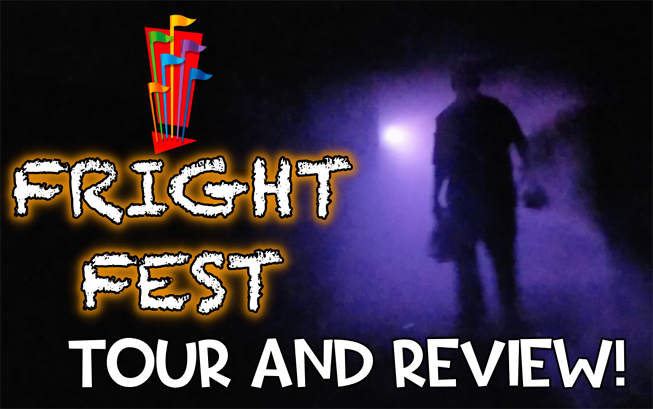 March 29, 2020

Liam and Bill Cherkasky give a tour and review of the haunted attractions at Six Flags Great Adventure's Fright Fest on October 5th, 2019. Great Adventure dates back to 1974 and is located in Jackson Township, NJ.
---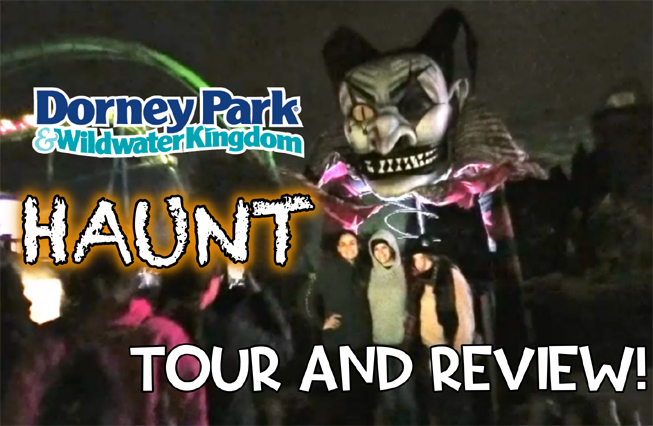 March 29, 2020

Liam and Bill Cherkasky give a tour of Dorney Park's Haunt from October 26, 2018. Dorney Park dates back to 1884 and is located in Allentown, PA.
---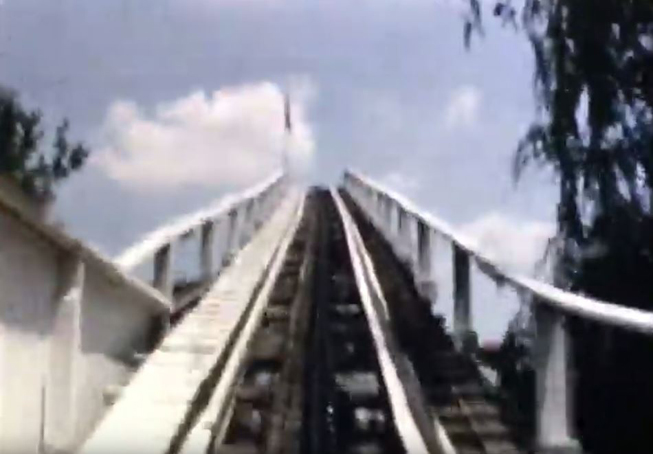 March 23, 2020

Relive a trip to Clementon Lake Park from 1958! This footage was taken by our father, Joseph G. Cherkasky, on 8mm film back in the summer of 1958 when Clementon Lake Park was still a happening place. This film includes footage on the now defunct 1919 Jack Rabbit roller coaster. Unfortunately, the park closed in September of 2019 and its future is unknown.
---

October 22, 2018

Seph Cherkasky has added 3 more reviews to his article on Halloween Attractions of the North East. These additions include Reaper's Revenge, Dorney Park's Haunt, and Universal Orlando's Halloween Horror Nights. By reviewing Universal's Halloween Horror Nights, Seph is branching out to the Southeast with his reviews.
---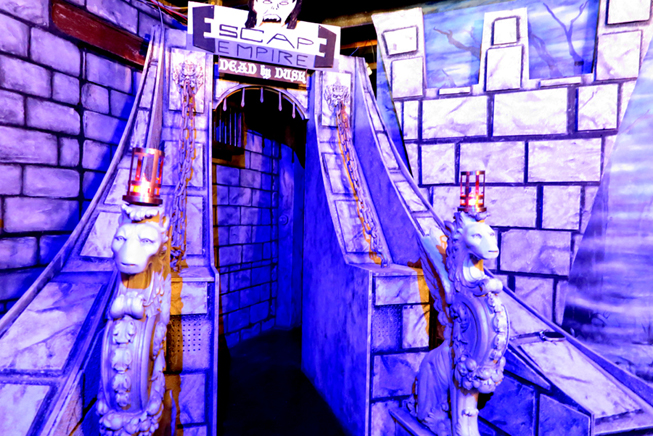 August 1, 2017

Seph Cherkasky, co-founder of Dark in the Park, has recently opened a Castle Dracula themed escape room in Philadelphia titled, "Dead by Dusk: Escape from Castle Dracula". The meticulously themed attraction was one year in the making and includes some props from Wildwood's Castle Dracula as well as other classic haunted attractions. For this escape room, you have one hour to solve puzzles to traverse through four different themed rooms and escape the castle before the sun goes down and Dracula awakes. The unique attraction is located near the University of Pennsylvania at 4751 Woodland Avenue.

This attraction had a successful run, but is no longer open.
---

October 1, 2015

Seph Cherkasky has added 6 more reviews to his article on Halloween Attractions of the North East. These additions include Valley of Fear, Sleepy Hollow, Lulu's House of Horrors, Six Flags Great Adventure Fright Fest, Horror Fest at Shady Brook Farm, and Bates Motel and Haunted Hayride.
---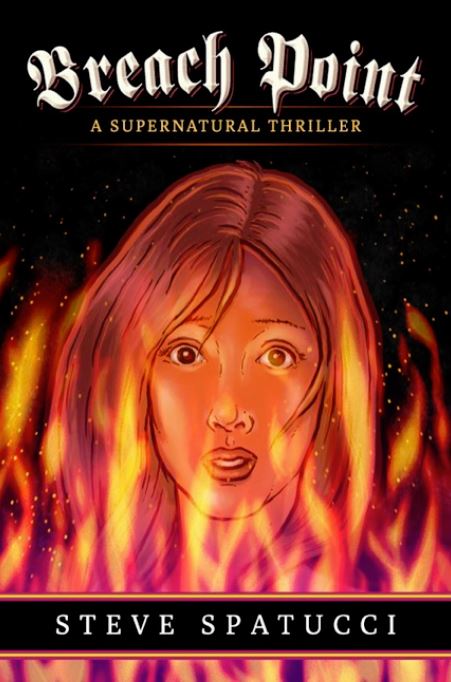 September 10, 2015

On August 26th, 2015, Steve Spatucci released Breach Point, a Young Adult book inspired by Brigantine Castle. The book follows high school sophomore Clara Tuffney as she spends her summer with her aunt in Breach Point, New Jersey to pursue an internship. While there, she becomes interested in Breach Point Castle, a haunted attraction that mysteriously burned down in the 1980s. By chance, she meets a boy whos uncle used to work in the castle. This encounter will lead her through a whirlwind of events that exposes the supernatural secrets of the defunct castle.

Although the book is geared toward young adults, people of all ages will enjoy its easy to read story filled with suspense and mystery. Fans of Brigantine Castle will also enjoy the similarities of the two haunts. Example: Brigantine Castle's owner was Carmen Ricci. Breach Point Castle's owner was Carlo Rizzieri. The book also includes a ton of bonus material which describes the origins of the book, the writing process, and the inspirations for the places and characters.

Steve Spatucci lives in Cherry Hill, New Jersey and was intrigued by Brigantine Castle as a kid but never had the opportunity to go through the haunt before it closed. He is now a writer, designer, illustrator, animator, developer and musician. He plans on releasing two sequels to Breach Point in the near future.

If you would like to purchase a print or electronic copy of Breach Point, search Amazon or visit the book's official website: www.breachpointbook.com
---
Relive the sights and sounds of West Point Park, a small defunct amusement park that was located in Lansdale, Pennsylvania. The park was opened in 1868 by Hezekiah Zeiber, a civil war veteran. The park remained in operation until 1988, when it was sold to a developer and houses were built in its place. This video was taken by me, Bill Cherkasky, and my father Joseph during a work picnic on June 25, 1988. Although my family usually visited Dorney Park, I had the opportunity to visit West Point Park on several occasions before it closed. My most vivid memories of the park were of the rickety Jumper roller coaster. It always looked and felt as if it were on the verge of falling apart. During this visit to West Point, I decided to walk around and document the park with the family camcorder. Little did I know, the park would close for good a few months after this footage was taken. All that remains of the park today is the lake where the swing ride was located.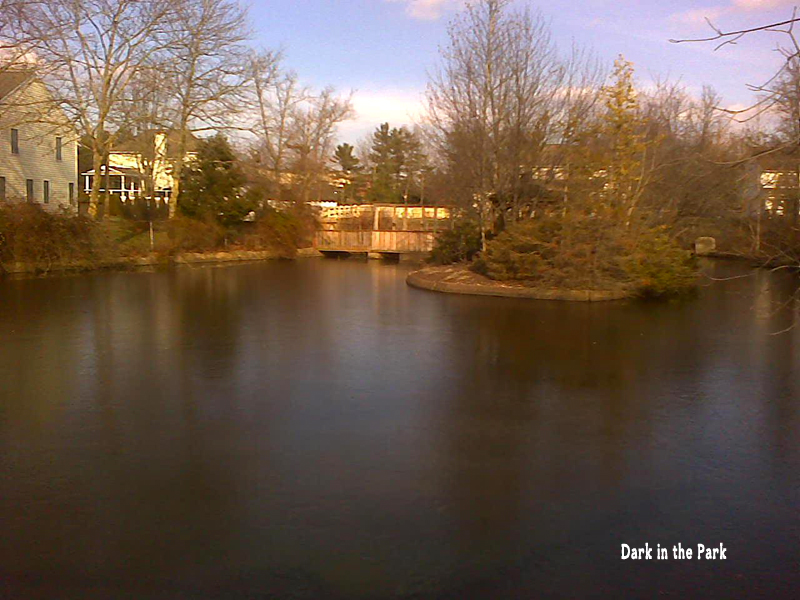 This is a current picture of the old West Point Park lake. The house to the left owns the lake, the little island, and the bridge that connects to their back yard. 18 houses were built on the land that occupied the former amusement park.
---

September 23, 2014

Seph Cherkasky provides reviews of some well-known Halloween attractions of the northeast.
---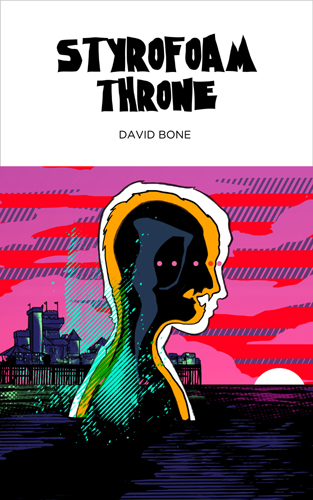 DECEMBER 15, 2013

David Bone, a huge fan of horror attractions, recently released his first novel, Styrofoam Throne. The book takes place in coastal California during the summer of 1984. A 16-year-old boy named Donovan, against his mother's wishes, manages to land his dream job working in a seaside haunted attraction called Castle Dunes. At the castle, Donovan finds love, mischief, and a sense of belonging that he had never before experienced. The summer of '84 becomes one that Donovan will never forget.

David Bone was born in New Jersey, but grew up in California. He based his fictional Castle Dunes on Brigantine Castle, but combined it with bits of other horror attractions across the country that he found interesting such as Santa Cruz Boardwalk, Skull Kingdom in Florida, Knotts Scary Farm, and Universal Horror Nights. As you read the book, you will notice the many similarities to Brigantine Castle such as the fortune telling Oracle, the creepy television commercials, and the Dracula jumping onto the fireplace mantel scare.

If you like horror, haunted attractions, or a good coming-of-age novel, then Styrofoam Throne is for you. You can check out David Bone's website for links on purchasing your own copy.
---
Carmen J. Ricci, the person responsible for building Brigantine Castle and Long Branch Haunted Mansion, passed away peacefully on July 21, 2012. He was a talented visionary that brought joy and fear to thousands of people. Our condolences go out to his family. Below his if obituary.

Carmen J. Ricci, of Lanoka Harbor, passed away peacefully at home on July 21st, 2012. He was seventy-three. Born in Philadelphia, Carmen lived most of his life in Seaside Park before moving to Lanoka Harbor with his wife, Nixa Ricci, eighteen years ago. He was the owner of Sonny's & Rickey's Amusements, and a central, influential figure in the New Jersey boardwalk community for six decades. He was predeceased by his parents, Anthony Ricci and Vita Dichiara Ricci, and his brothers, Angelo and Thomas Ricci. Surviving are his daughters Michelle Rindone, Lisa Ricci, Theresa Petaccio, Colleen Rosenblum, and Nixa Risk, his son Samuel Della Sala III, his daughter-in-law Jennifer Della Sala, and his son-in-laws Raymond Rindone, Randy Rosenblum, and Michael Risk. Also surviving are Carmen's grandchildren: Carmen, Andrea, Stefano, Raymond Jr., Jennifer, Kelsey, Jordyn, Maya, Nicholas, Aidan, Collin, and Kaylyn.
---
On October 14th, 2011, Bill and Seph traveled to Knoebel's Amusement Resort in Elysburg, PA to check out the reincarnation of one of their favorite childhood rides. After two years of hard work, the Knoebel's rebuilt the former Golden Nugget Mine Ride from Wildwood, NJ as the Black Diamond. This 7 minute report includes an interview with Dick Knoebel, president and co-manager of the park.
---

Several great pictures from Bill Schweitzer and Tina Frietsch were added to Castle Dracula site. They can be found in the following locations:
13 new pictures were added to the Castle Dracula Exterior section
8 new pictures were added to the Dungeon Boat Ride section
A new picture was added to the Castle Dracula entrance hall
A new picture was added to the Castle Dracula display
---
Morey's Piers in Wildwood, NJ hosted an opening ceremony for its new 3 million dollar dark attraction titled, Ghost Ship. This invitation-only ceremony was held on May 28th, 2010 at 11:45 PM. Dark in the Park was present and documented the event by producing a 7-minute report.
---
On January 31st, 2009, Morey's Piers hosted a farewell ceremony for the Golden Nugget Mine Ride in Wildwood, NJ. The Golden Nugget was a custom roller coaster dark ride that first opened in 1960. The ride has not operated since 1998 and will be removed by the start of the 2009 season. Dark in the Park was present at the ceremony and documented the event by producing a 13-minute report.
---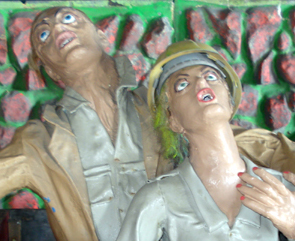 The Memories of Wildwood, NJ article was updated to include pictures of the Golden Nugget farewell ceremony.
---

The much anticipated "sounds" section has been added to the Castle Dracula site. Listen to the classic robotic Dracula sound recording as well as other memorable tracks.
---

Pictures and information about the Haunted Castle from Six Flags Great Adventure. The content came from an 1984 issue of Amusement Park Journal sent to us by Chris and Stacey Smilek.
---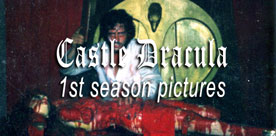 Check out several pictures from the 1977 first season of Castle Dracula, Wildwood, NJ. These pictures were sent to us by Donal O'Hanlon, a former castle employee.
---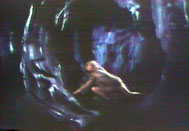 A 1978 Long Branch Haunted Mansion TV commercial was added to the "Advertising Section" of the Haunted Mansion site. The commercial was sent to us by Jesse Skeen.
---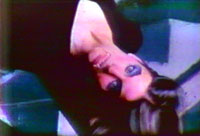 Higher resolution versions of the Brigantine Castle television commercials were added to the "Advertising Section" of the Brigantine Castle site.
---

Check out several 1992 pictures of the remains of Dreamland Park, a small defunct amusement park near Reading, PA. The photos were sent to us by Nancy DiSanto.
---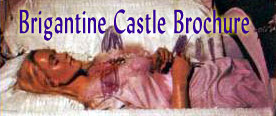 A different version of a Brigantine Castle brochure was added to the "Advertising Section" of the Brigantine Castle site. The brochure was provided by Ray Horan.
---
Two new pictures were added to the Brigantine Castle site courtesy of Chris Jahn. One picture shows the pier from one of the castle's parapets. The other picture features some castle actors.
---
Some new pictures of Castle Dracula were sent to us by former castle manager Anita Wheeler. Main Room, Dungeon Boat Entrance, Execution Room
---
Some new pictures of Brigantine castle were sent to us by former actress Theresa Sarris-Welsh. Castle Picture, Actor Pictures
---

Take a look at some current pictures of the new development at the former site of the Long Branch Amusement Pier.
---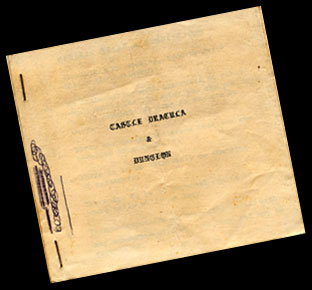 Take a look at a rare employee handbook for Wildwood's Castle Dracula and Dungeon Boat ride. This copy of the handbook was sent to us by Anita Wheeler, former worker and manager of Castle Dracula. Also, Anita sent us a Castle Dracula ad from an old copy of Sunny Days magazine.
---

Read about Seph Cherkasky's Halloween eve visit to the dark rides of Niagara Falls in this article, Dark in the Park goes to Niagara Falls.
---

Check out the rare aerial photos of this defunct amusement park outside of Reading, PA. The three photos can be seen in the article about Dreamland Park.
---

A book about the Dreamland Park murders was recently published by two local authors. The book, which features a picture from our site on the cover, is available from Borders Books in Wyomissing, PA. You can read more details about the book or read our article about Dreamland Park.
---

Read the winning entries of our Dark in the Park Writing Contest.
---

Check out this article about the current dark rides of Seaside Heights, New Jersey. The article was written by Seph Cherkasky.
---

Check out this article about Wildwood, New Jersey written by Bill Cherkasky.
---