This walk-through attraction is most remembered for the horrific fire that destroyed it and took the lives of eight teenagers in May of 1984. Although very few pictures of the attraction have surfaced on the Internet, an old article from Amusement Park Journal featuring pictures of the castle was sent to us by Chris and Stacey Smilek. Although the article focuses on the castle fire, the pictures were all taken before the fire occurred. The photographs, which were published in black and white, were taken by Charles J. Jacques, Jr.

Although the castle looked substantial, it was really built as a false front to cover up over-the-road trailers in the rear.

The Haunted Castle was built between 1977 and 1978 by the Haunted House Company of East Orange, New Jersey. When completed, the castle featured a large cream-colored facade of turrets, skulls and ghoulish mannequins. The facade was made from cement and fiberglass and was supported by wooden beams like a Hollywood set. Although the facade looked impressive, it was just hiding 17 truck trailers which made up the actual attraction. The trailers were the type used to haul freight and were 40 feet long, 8 feet wide, and 12.5 feet high.

The outside color of the castle was a creamy tan, not a very scary color for a dark ride. The entrance featured a drawbridge over a moat with ghouls on each side of the door.
The attraction was actually made up of two separate mazes. One of the trailers served as the entrance to both sides, while eight trailers on each side contained the dimly-lit maze. This design allowed for faster output of patrons when the park was crowded. At the time of the fire, crowds were light, so only one half of the attraction was open.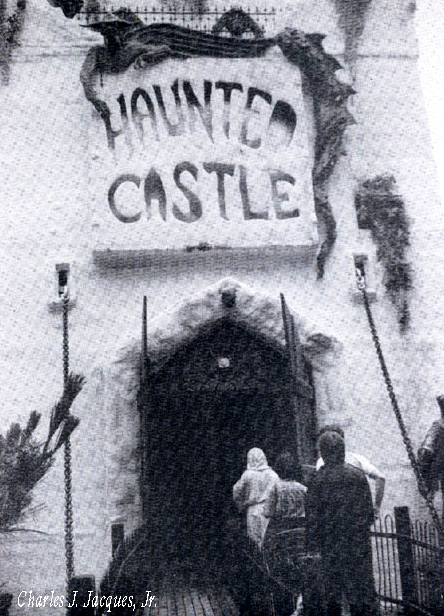 A robe-clad employee leads patrons into the right side of the castle.
My brother, Seph, and myself had the opportunity to experience the Haunted Castle the summer before the fire. We weren't very impressed with the castle and found it to be neither scary or memorable. We recall seeing lots of cheap Halloween props like plastic spiders and snakes. We also recall the castle being very dark with occasional red lights providing limited visibility.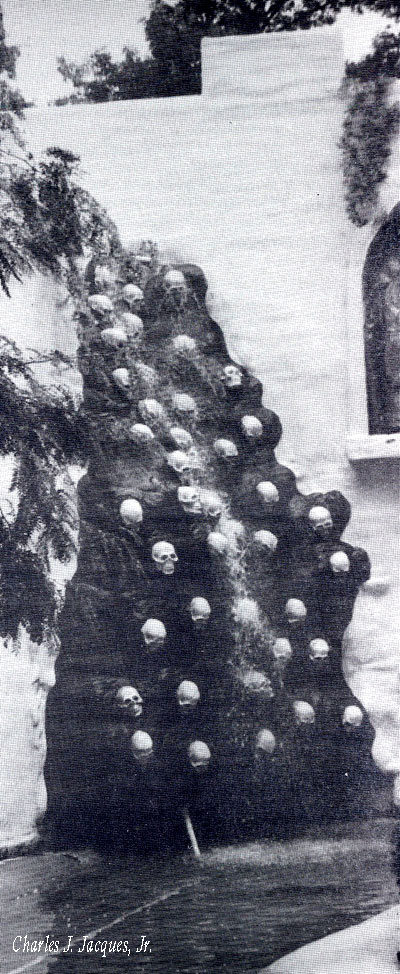 In the corner of the castle was a ghoulish fountain with water running down over a wall of skulls.
DIP HOME | BRIGANTINE CASTLE ONLINE | DRACULA'S CASTLE | HAUNTED MANSION OF LONG BRANCH
ARTICLES | IN THE NEWS | RELATED LINKS | MESSAGE BOARD | ABOUT THIS SITE | SEND US MAIL
© 2007 Dark in the Park. This site was created by Bill and Seph Cherkasky.