Advertising
Brigantine Castle's initial success was due largely to Carmen Ricci's extensive advertising campaign. Ricci was the castle's owner and a clever businessman. He immediately began advertising in both print and television in Philadelphia, North Jersey, and New York. This effective advertising started drawing busloads of visitors to the castle and thousands of new visitors to the Brigantine Island. The most memorable advertisements that Ricci produced were his classic TV commercials and radio ads.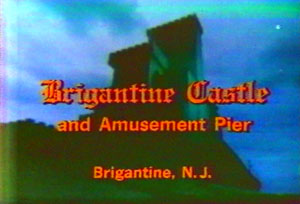 Thanks to some information provided by Craig Manges, we were able to acquire two different versions of the Brigantine Castle TV commercials from a company called USA TV Ads. If anyone knows of any other versions of the Brigantine TV commercials, please let us know. We would be willing to make a trade for any versions that we currently do not own. Click on one of the icons below to hear and see the commercials.
If you visited the South Jersey shore during the late 70's, you probably would have seen one of these posters hanging somewhere. This scan was provided by Joe McNeill (Joey Mac), former castle pier worker.

Did you have one of these stuck on your car? Here is a scan of a Brigantine Castle sticker provided by Joey Mac.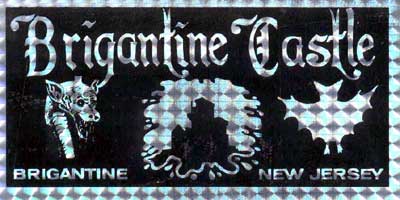 Did you ever use a coupon to save money on admission to Brigantine Castle? James Seno sent us a scan of a 75 cent coupon that he picked up in the 70s. Click on the thumbnail below to see a larger image.

Many people might also remember the Brigantine Castle brochure. Paul Spatola has provided scans of one of the castle brochures. Click on one of the brochure pages below to see a larger image.
Here are some scans of another Brigantine Castle brochure that was sent to us by Bob Fioretti. He got this brochure in Wildwood during the summer of 1980.
Russ Kohr has provided us with a third brochure of Brigantine Castle. Russ and his wife picked this brochure up in 1982 and stowed it away in their photo album. Although it is similar to the other two brochures, it does have a few different pictures.
Ray Horan has provided us with a fourth Brigantine Castle brochure that is completely different than the versions above. He found this copy in his attic after it had been packed away for years.
HOME | HISTORY | THE ACTORS | ADVERTISING | EMAILS/STORIES | PICTURES
© 2022 Dark in the Park. This site was created by Bill and Seph Cherkasky.