Looking out over the falls toward the New York side.
On Halloween eve of 2005, Dark in the Park packed up and headed north to New York State to visit one of the great wonders of the world, Niagara Falls and to also see several spook houses that just happened to be up there. I have been hearing about these rides for some time, particularly due to R.W.K.'s emails and his unnatural obsession about the haunted rides in Canada, so I decided to check them out for myself.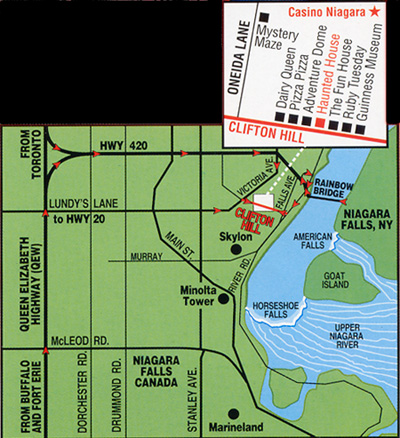 A map of Niagara Falls Canada. The Clifton Hill area is where most of the haunted attractions are located.
After walking around the American side of the falls for awhile, my friend Sandee and I headed across the border on the bridge connecting the countries. It was easy to cross by foot; just a lot of walking was required. Once we got to Canada, one of the first streets we stumbled across was Clifton Hill, which was the street where most of the haunted attractions were located. I was pretty excited when I saw all the haunted rides. It has been some time since I have seen so many haunted rides in one place. It reminded me of Wildwood in the early 80s with all the haunted attractions. I felt like a kid in a candy shop as I headed down the street taking videos. My battery soon ran out so we decided to get a hotel room near Clifton Hill and then walk back to the U.S. side to get the car.
D.I.P. HOME | BRIGANTINE CASTLE ONLINE | DRACULA'S CASTLE | HAUNTED MANSION OF LONG BRANCH
ARTICLES | IN THE NEWS | RELATED LINKS | MESSAGE BOARD | ABOUT THIS SITE | SEND US MAIL
WALK-THROUGH POLL | RIDE-THROUGH POLL
© 2006 Dark in the Park. This site was created by Bill and Seph Cherkasky.