36 years after the murders of Glenn Eckert and Marilyn Sheckler, a book was finally published about the chilling incident. The Dreamland Park Murders, written by Mansfield College professor Doris M. Dorwart of Lancaster and former decorated Washington, D.C., police department Detective Robert E. Snyder is a non-fiction book that was nine years in the making.
This book details not only the murders at Dreamland Park, but also covers the trial of James M. Eways for the 1995 slaying of Michael Abate, a teen who was joyriding outside Eway's Wernersville home. The well written book describes many of the players involved in the incidents, including Pagan gang members, police officers, judges, lawyers, family members, and victims. The research for the book is impressive, as the authors uncovered information that has never been published. The authors also shine light on the imperfections of the U.S. judicial system.
If you are interested in the Dreamland Park incidents or the workings of the criminal justice system, I highly recommend this substantial 463 page book. The book was originally available at the Borders Books in Wyomissing, PA. Please call the store to check availability at 610-373-0377.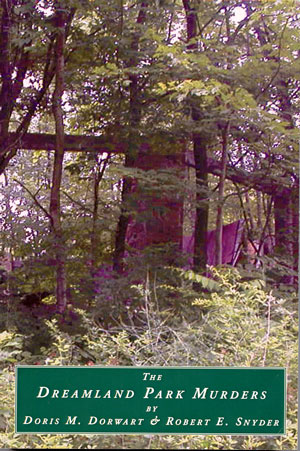 The cover of the book features a picture of Dreamland Park from our website.
You can read about the murders and view pictures in the Dark in the Park Dreamland Park article.
RETURN TO DARK IN THE PARK MAIN PAGE
HOME | BRIGANTINE CASTLE ONLINE | DRACULA'S CASTLE | HAUNTED MANSION OF LONG BRANCH
ARTICLES | IN THE NEWS | RELATED LINKS | MESSAGE BOARD | ABOUT THIS SITE | SEND US MAIL
WALK-THROUGH POLL | RIDE-THROUGH POLL
© 2004 Dark in the Park. This site was created by Bill and Seph Cherkasky.