A 1991 view of the Ferris Wheel and Sea Serpent on Mariner's Landing Pier.
Vacationing in Wildwood, New Jersey has been a part of my life for as long as I can remember. My parents even vacationed in Wildwood when my mother was pregnant with me, so I was a Wildwood tourist before I was even born! Once I was old enough to appreciate my surroundings, it didn't take long for me to fall in love with Wildwood. The beach, amusement rides, arcades, food, smells, lights and shops of Wildwood would become part of a summer ritual that would never tire me.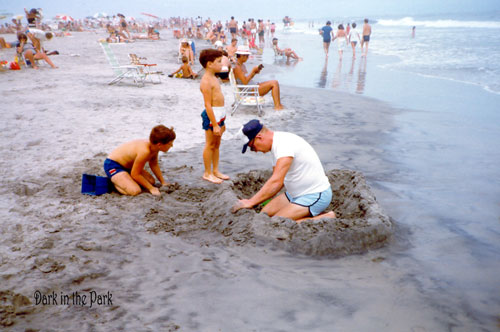 A 1983 picture of my father, brother and myself constructing a sand fort to ward off the ocean. Eventually, the ocean won the battle. I'm standing and looking for Europe in this picture.
My family consists of my father, mother, older brother, and myself. For years, the four of us would make a trip to Wildwood three times every summer; a weekend in July to celebrate my brother's birthday, a week in August, and another weekend in September to celebrate my birthday. Eventually, my parents bought a summer house in North Wildwood so that my brother and I could spend the entire summer down the shore. Although my brother, who is two years older than I, only spent a couple entire summers in our shore house, I would spend all of my high school and college summers down the shore. This proved to be a good way to make money as I would find decent paying jobs on and off the boardwalk.
The Wildwoods, which are located in Southern New Jersey, are actually made up of three separate municipalities, North Wildwood, Wildwood, and Wildwood Crest. The famous 2.5 mile boardwalk is located primarily in Wildwood, but approximately ten blocks of the boardwalk extends into North Wildwood. Wildwood Crest and North Wildwood tend to be quieter and more subdued shore communities, while Wildwood is louder and more rowdy.
The following article highlights some of my fondest memories of the Wildwoods. I was born in 1975, so most of my memories are from the glorious 80s. Now, sit back and enjoy as you read my "Memories of Wildwood."
DIP HOME | BRIGANTINE CASTLE ONLINE | DRACULA'S CASTLE | HAUNTED MANSION OF LONG BRANCH
ARTICLES | IN THE NEWS | RELATED LINKS | MESSAGE BOARD | ABOUT THIS SITE | SEND US MAIL
WALK-THROUGH POLL | RIDE-THROUGH POLL
© 2005 Dark in the Park. This site was created by Bill and Seph Cherkasky.