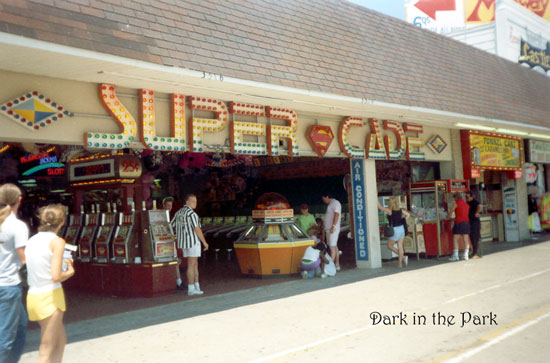 A 1991 view of the Supercade located across from Mariner's Landing. This arcade is owned by the Nickels family and is still open today, although the original building shown in this picture burned down in 1992.
I always loved the elaborate sign on this arcade. The patterns of the lights were controlled by a huge computer hidden inside the arcade. There were actually two of these signs, one was on the outside of the arcade, and one was on the inside.
Angelo Nickels could be heard inside at the horse race game chanting his favorite line, "pumping out the prizes, pumping out the prizes, bip bop bippidy boo."
Wildwood was a great place to be if you loved video games and prize casinos. When we were young, we loved winning prizes in the crane games. Back then, the cranes were mechanical and you actually had a good chance of winning. We would also play the early draw poker machines. The machines had mechanical displays and were unable of paying out tokens. When you won, you would call over one of the casino employees and they would hand you coupons for prizes. We also loved playing skeeball. It was only a dime back then and the fun never seemed to end. After spending about 20 dollars in the casinos, we would end up with spider rings, plastic skeletons, ashtrays and Chinese finger torture tubes. Although the prizes were junk, it was still fun to pick them out with our winnings.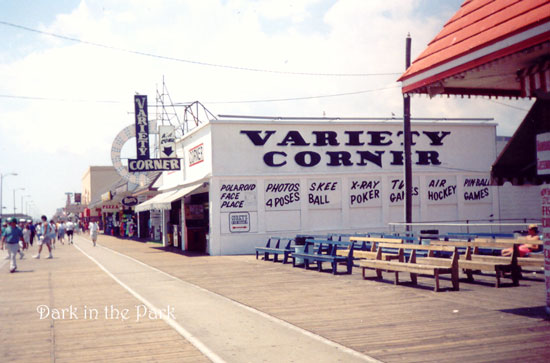 This is a 1991 view of the Variety Corner acrade on Lincoln Avenue. We used to like to play the draw poker machines here. They also had an old Clean Sweep game that was real easy to win. The manager, Mindy, was a nice girl that always remembered us. Although this building is still on the Wildwood boardwalk, it is now an Ed's Funcade.
In my teenage years, I became a big pinball fan. During my lunch breaks from work, you could find me in one of the many arcades playing one of my favorite tables. Cyclone, Black Knight 2000, Funhouse, Phantom of the Opera, Earth Shaker and Creature from the Black Lagoon were just some of my favorites. I was so good that I would be able to play during my entire lunch break with only one quarter. I was king of the replay.
DIP HOME | BRIGANTINE CASTLE ONLINE | DRACULA'S CASTLE | HAUNTED MANSION OF LONG BRANCH
ARTICLES | IN THE NEWS | RELATED LINKS | MESSAGE BOARD | ABOUT THIS SITE | SEND US MAIL
WALK-THROUGH POLL | RIDE-THROUGH POLL
© 2005 Dark in the Park. This site was created by Bill and Seph Cherkasky.