A 1987 picture of me searching for money under the North Wildwood boardwalk early in the morning. Apparently, I was underdressed because I look cold.
A Wildwood memory that I share with my brother and father is searching for money under the piers and boardwalk. We would wake up early in the morning and search under every location that we thought money would fall. If you happened on the right spot, you could find a nice bundle. We also managed to find ride tickets, casino tokens and the occasional sleeping drifter…which was startling when we were young.
The Wildwood tram cars are a classic Wildwood image that has, except for the price, remained the same. The classic "Watch the tram car please" recording has not changed for as long as I can remember. My brother was even knocked over once by a tram car. I guess he didn't heed the repeating warning. Luckily, he was not injured.
After living in Wildwood for many a summer, I got to see and hear many cheesy local Wildwood commercials. Big Wally's Furniture Store, the Captain's Table, Urie's Restaurant, Big Ernie's Diner, Fat Daddy's, and Morey's Piers all tried to out-cheese each other with their commercials.
Click to see a portion of a Urie's TV commercial that I recorded off local cable in 1995.
Click to hear a portion of a Captain's Table radio commercial from 1992.
Regardless of the various changes to the island over the years, the Wildwoods will always remain special to me. I plan on continuing my visits to the Wildwoods for many years to come.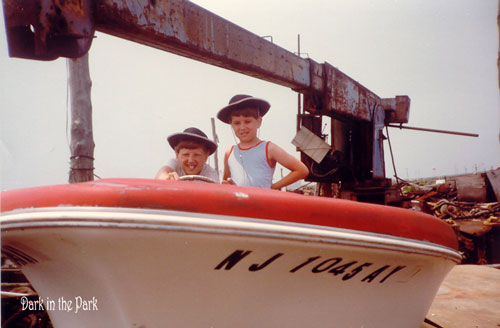 My brother (left) and me (right) aboard a boat on 2 Mile Landing.
If you have any photographs or memories that you would like to share, please send me an email. I would love to hear from you!
DIP HOME | BRIGANTINE CASTLE ONLINE | DRACULA'S CASTLE | HAUNTED MANSION OF LONG BRANCH
ARTICLES | IN THE NEWS | RELATED LINKS | MESSAGE BOARD | ABOUT THIS SITE | SEND US MAIL
WALK-THROUGH POLL | RIDE-THROUGH POLL
© 2005 Dark in the Park. This site was created by Bill and Seph Cherkasky.