No visit to Wildwood would be complete without a visit to Curley's Fries on Morey's 25th Street pier. The fresh-cut potatoes fried in peanut oil have a unique taste that you can only get from this Jersey Shore establishment.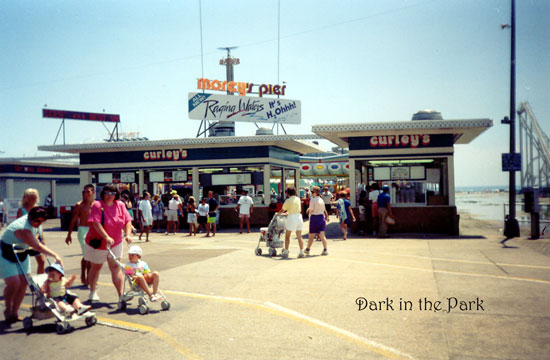 A 1991 view of Curley's Fries on Morey's 25th street pier. This picture was taken after the little annex (right) was built next to the original Curley's Fries building. The annex was built to only make the famous fries. Curley's Fries still remains at this location, although the pier has been widened and an enlarged seating area was added.
Another Wildwood tradition is getting a slice of Mack's pizza. Although my family would get pizza from just about any boardwalk pizza place, we always thought Mack's was the best. Now when I visit Wildwood, I stick with Mack's exclusively.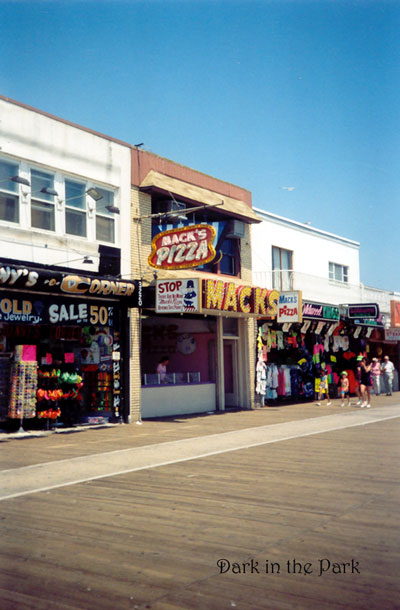 Mack's Wildwood Avenue pizza shop. Mack's only sells pizza. They do one thing and they do it right.
Other food traditions were to get roast beef sandwiches at the Bella Villa….and eventually at Snow White when the Bella Villa changed owners. I loved getting a Kohr's soft serve cone complete with chocolate jimmies. Other places call them sprinkles, but down the shore they're called jimmies. Another Wildwood treat was getting a pineapple Alpine drink. They were expensive and small, but were worth every penny. Also, funnel cakes, waffles and ice cream, cotton candy and salt water taffy were other Wildwood favorites. One thing that was never good on the boardwalk was the corn-on-the-cob. Although it looked great, it always tasted dry and overcooked.
DIP HOME | BRIGANTINE CASTLE ONLINE | DRACULA'S CASTLE | HAUNTED MANSION OF LONG BRANCH
ARTICLES | IN THE NEWS | RELATED LINKS | MESSAGE BOARD | ABOUT THIS SITE | SEND US MAIL
WALK-THROUGH POLL | RIDE-THROUGH POLL
© 2005 Dark in the Park. This site was created by Bill and Seph Cherkasky.