A 1991 view of Castle Dracula on the Midway Pier. The castle was still in pretty good shape when this picture was taken.
Castle Dracula was built in 1977 by the Nickels family on the Midway Pier. This combination walk-through, boat ride attraction would remain on the Wildwood boardwalk until a 2001 arson fire completely destroyed it. This dark ride was an impressive site on the boardwalk, complete with stone griffins, fiery torches, a mechanical talking Dracula, and a repeating loop of Bach's Toccata and Fugue blaring from outside speakers. Although the Castle was two stories high, most of the walk-through attraction was only on the first floor. The dungeon boat ride part of the attraction was a converted old mill ride located underneath the castle and contained bloody scenes of torture with an occasional live actor jumping out at you.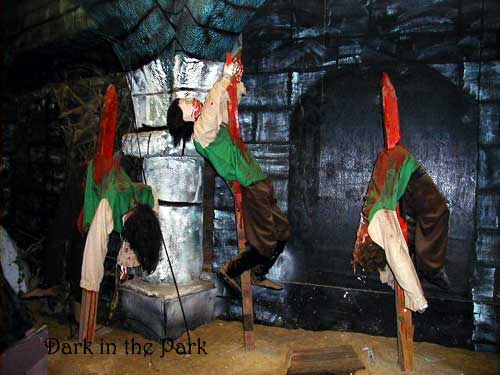 One of the horrific scenes of torture in the dungeon boat ride.
I was always more impressed with the outside of the castle than I ever was with the inside. I always wondered what horrors hide behind the glowing red windows on the second floor. If you would like to see more pictures of the castle, visit our Dracula's Castle tribute page.
DIP HOME | BRIGANTINE CASTLE ONLINE | DRACULA'S CASTLE | HAUNTED MANSION OF LONG BRANCH
ARTICLES | IN THE NEWS | RELATED LINKS | MESSAGE BOARD | ABOUT THIS SITE | SEND US MAIL
WALK-THROUGH POLL | RIDE-THROUGH POLL
© 2005 Dark in the Park. This site was created by Bill and Seph Cherkasky.