My brother (right) and me (left) standing in front of Sportland Pier during a winter trip to Wildwood in the early 80s.
Sportland Pier has been nothing but a go-cart pier for several years now, but at one time it was loaded with fun rides. Although the rides on the pier were closed in the early 80s, we did get the opportunity to ride Dr. Blood's House of Horror the season before it closed. This enormous two-level dark ride was packed with classic stunts and seemed to last forever. The attraction still remains on the pier, but it has not operated since the summer of '81 when we rode it for the last time.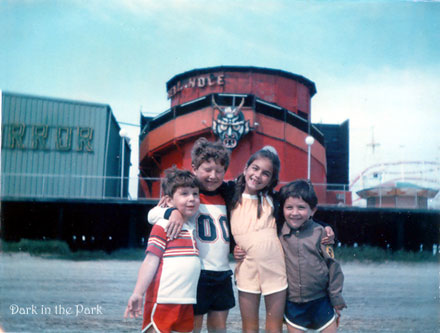 A picture of our crew in front of the Sportland Pier Hell Hole during the summer of 1980. The Hell Hole was an enclosed spinning ride simular to the Graviton. Although we were too young to ride the Hell Hole, we loved the devil face on the back of the ride. Part of Dr. Blood's House of Horror can be seen to the left of the picture. I am wearing the striped red shirt.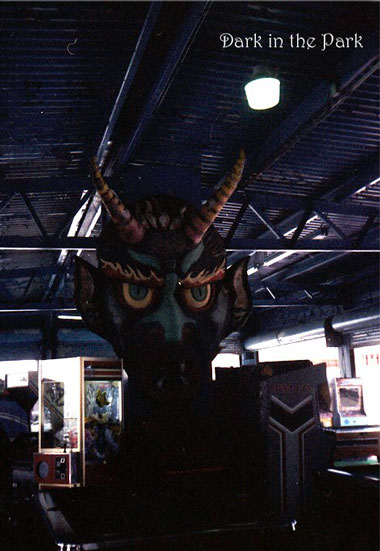 This is a 1991 picture of the Hell Hole devil after he was moved inside an arcade next to Midway Pier. This arcade is no longer open, so I'm not sure what became of the devil head. He is probably in storage somewhere on the island.
DIP HOME | BRIGANTINE CASTLE ONLINE | DRACULA'S CASTLE | HAUNTED MANSION OF LONG BRANCH
ARTICLES | IN THE NEWS | RELATED LINKS | MESSAGE BOARD | ABOUT THIS SITE | SEND US MAIL
WALK-THROUGH POLL | RIDE-THROUGH POLL
© 2005 Dark in the Park. This site was created by Bill and Seph Cherkasky.