Although we did not like Morey's Pier as much as Hunt's Pier, we would still visit it for some of the rides and to see the large fiberglass King Kong on top of the ticket booth. One ride that used to fascinate us was the walk through Haunted House located toward the back of the pier. This attraction, which was built in 1972, lasted until the mid 80s when it was torn down to make room for the new log flume. Although we had the opportunity to walk through the attraction a couple times before its demise, I was too young to remember specifics about the inside. I do, however, remember that it had a shower scene like that in the Psycho movie. I also remember a guy wielding a large meat clever on the third floor. The mansion was not as big as Nickels' Dracula's Castle, but it seemed to have more scares.
A picture of my friend and me standing in front of the Haunted Mansion during the winter of 1983. I am the one looking at the camera. The mansion was demolished shortly after this picture was taken to make room for the new log flume.

Click to see a rare 8mm home movie of Morey's Pier from 1982. This movie was taken by Mike Vlkovic.
Another classic Morey's ride was Dante's Inferno. This ride was installed in 1981 and still remains on the pier today. The artwork on the original Dante's Inferno was horrifying...people melting in Hell's fires, demons attacking women, etc.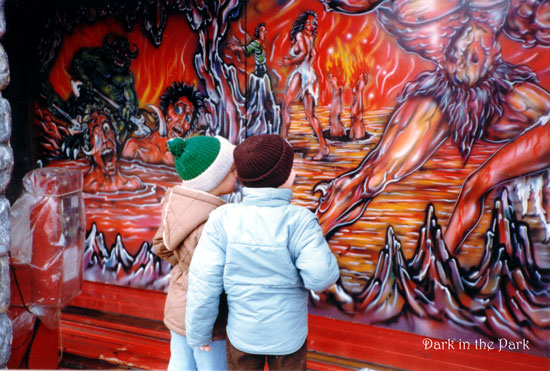 A picture of my friend and me examining some of the early Dante's Inferno paintings. This picture was taken in the winter of 1983.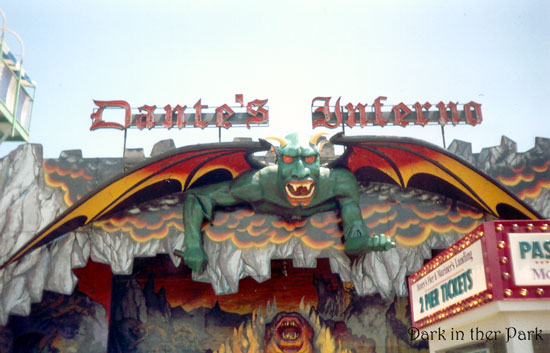 A 1991 view of the front of Dante's Inferno. The devil used to occasionally blow steam out of his nose.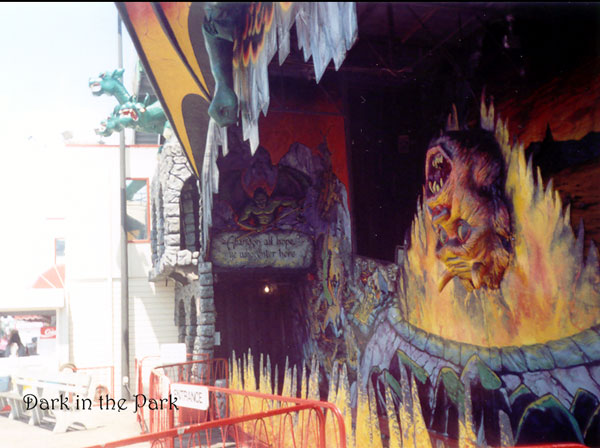 Another 1991 picture of Dante's Inferno. You can see the upside-down demon in this picture. His eyes used to move side to side. You can also see the painted demon above the entrance to the ride. Below him, the quote "Abandon all hope, ye who enter here" can be seen.

Click to see our 1988 home video of the outside of Dante's Inferno.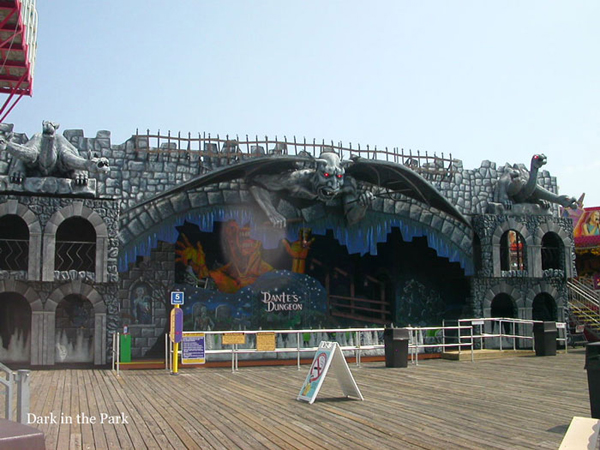 Dante's Inferno was converted to Dante's Dungeon in 2005. Although the big devil remains on the outside, all the inside stunts have been replaced. The outside lacks those classic depictions of hell, but it is still a decent dark ride. This picture is from the summer of 2006.
DIP HOME | BRIGANTINE CASTLE ONLINE | DRACULA'S CASTLE | HAUNTED MANSION OF LONG BRANCH
ARTICLES | IN THE NEWS | RELATED LINKS | MESSAGE BOARD | ABOUT THIS SITE | SEND US MAIL
WALK-THROUGH POLL | RIDE-THROUGH POLL
© 2005 Dark in the Park. This site was created by Bill and Seph Cherkasky.