Please email comments or suggestions to Webmaster.

EMPLOYEES (PICTURES)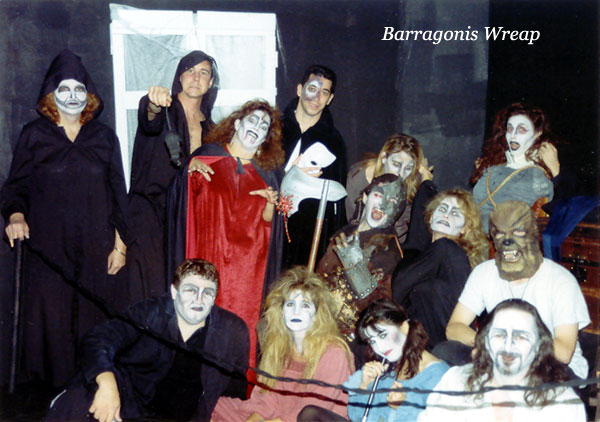 This picture of crew members of the Long Branch Haunted Theater was sent us by Barragonis Wreap. The Haunted Theater was located in a turn of the century building about 8 miles from the former Long Branch Pier and was started by Jade Greene, a former Haunted Mansion worker. The Haunted Theater was a walk-through horror attraction that ran during Halloween for a few years after the Haunted Mansion burnt down. About 30 percent of the actors at the Haunted Theater were former Haunted Mansion employees. Some former employees that can be seen in this picture are Jade Greene (black hair with pony tails at bottom of pic), Butch Monaco (sitting down on the left) and Larry Wolf (the guy holding the rat). Larry was a make-up artist for the Haunted Mansion and the Haunted Theater and Butch worked as an actor at the Haunted Mansion during the summer of 1979. Barragonis Wreap can be seen holding the axe with his mouth open. He made some of the props that were used in the Haunted Mansion and Dracula's Castle in Wildwood.
HOME | HISTORY | ADVERTISING | PICTURES | EMPLOYEES | EMAILS/STORIES
© 2003 Dark in the Park. This site was created by Bill and Seph Cherkasky.