Please email comments or suggestions to Webmaster.

EMPLOYEES (PICTURES)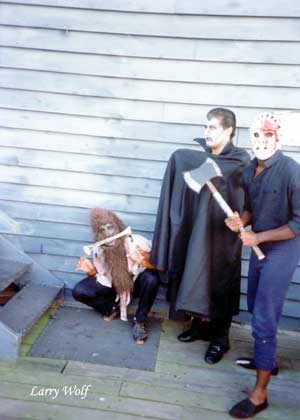 Jason is being played by Todd Stathum and Dracula is being played by Carlo Durland. The caveman is unknown. Unfortunately, even the Haunted Mansion sunk to employing Jason Voorhees. Worse yet, Jason decided to start wearing a sweat suit and water shoes! This picture from the mid-80s was provided by Larry Wolf. A special thank you to Mary Beth [Nugent] Corsentino for identifying the actors.
HOME | HISTORY | ADVERTISING | PICTURES | EMPLOYEES | EMAILS/STORIES
© 2003 Dark in the Park. This site was created by Bill and Seph Cherkasky.