Please email comments or suggestions to Webmaster.

PICTURES (ELECTRIC CHAIR STUNT)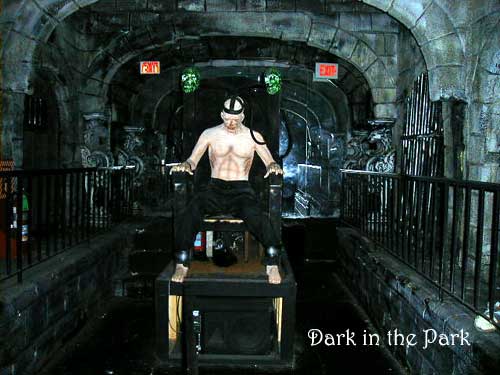 This electric chair stunt was added to the castle in the mid 90s. Before this stunt was added, a skeleton (grandfather) with stomping legs was in its place. The skeleton was moved to the dungeon boat ride once this stunt was added. Although the electric chair was more visual than the skeleton, it didn't really fit the theme of the castle.

The dressing room for the actors was located behind this stunt to the right (where the exit sign points to). The dressing room was the only way to get to the second floor.
HOME | HISTORY | PICTURES | ADVERTISING | FIRE
© 2003 Dark in the Park. This site was created by Bill and Seph Cherkasky.