A 1991 photo of Sun Haven Motel located at 24th and Atlantic in North Wildwood. This was the first motel that I ever stayed at in the Wildwoods.
The Wildwoods are well known for their abundance of motels that were built in the 50s and 60s in the classic doo wop style. The first motel that I remember staying at was the Sun Haven Motel located on 24th Street in North Wildwood. Although this place was basically a dive, I was too young to really notice. My memories of this motel were the balcony with its dangerously thin wire railing, its super cold outside shower to clean yourself off upon coming back from the beach, and the motel's cranky owner, Andy. I remember he cursed under his breath when my friend and I asked him for tape to fix our plastic swords that we won on the boardwalk. He did tape the swords for us while grumbling the entire time. This motel, like so many other doo wop motels, was demolished to make room for condos.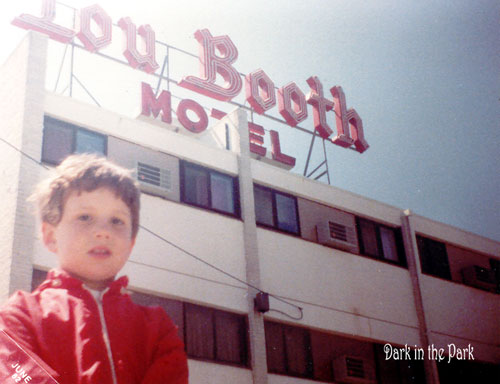 A picture of me at the back of Lou Booth Motel during the summer of 1982.
Once we got a little older, my parents started staying in the Lou Booth Motel located on 14th Street in North Wildwood. This motel was a big step up from Andy's Sun Haven Motel. It had a huge pool, kitchenettes in the rooms, and an outside shower with hot water! In the early days, it even had a game room complete with the Gorgar pinball machine. Gorgar was the first talking pinball machine and it used to really creep us out. What a great game.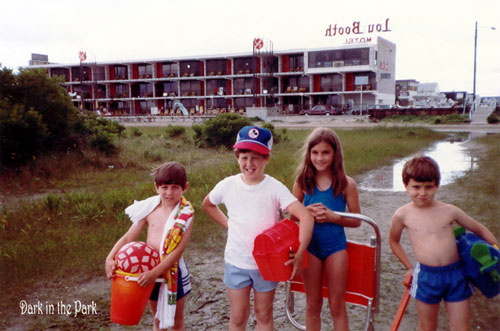 A picture of our crew on the beach in front of the Lou Booth Motel. That's me to the far right of the picture.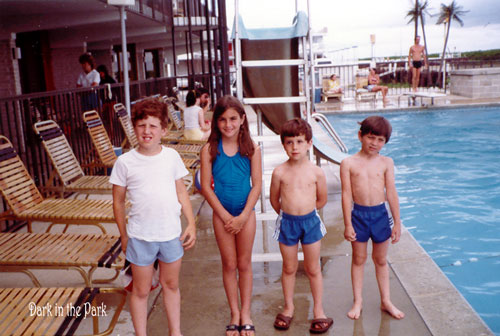 Our crew at the Lou Booth Motel pool during the summer of 1983. Before insurance liability problems, many Wildwood pools had sliding boards and diving boards.
Lou Booth Motel was built and run by the late Wildwood businesswoman Lou Booth. Lou was well known for developing the night club industry in the early days of Wildwood, but we only knew her as a sweet old woman that was always happy to see us. We even visited her a couple times at her condo after she sold the motel.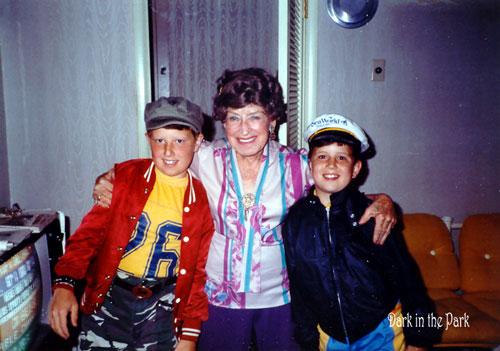 A picture of my brother (left) and me (right) with Lou Booth in 1984.
Once Lou Booth died, her family forced the new owners of the motel to change its name. To save money, they changed the name to Le Boot. We continued to stay at this motel until my parents bought a house in North Wildwood in the early 90s. Le Boot Motel is still standing in North Wildwood, and still looks much like it did when we stayed there, except for remodeled rooms and no game room.
DIP HOME | BRIGANTINE CASTLE ONLINE | DRACULA'S CASTLE | HAUNTED MANSION OF LONG BRANCH
ARTICLES | IN THE NEWS | RELATED LINKS | MESSAGE BOARD | ABOUT THIS SITE | SEND US MAIL
WALK-THROUGH POLL | RIDE-THROUGH POLL
© 2005 Dark in the Park. This site was created by Bill and Seph Cherkasky.