Please email comments or suggestions to Webmaster.

PICTURES (MISCELLANEOUS)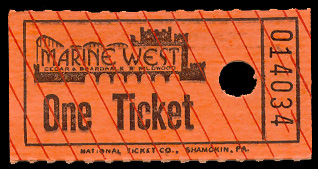 This is one of the original tickets used for Castle Dracula during its first couple years. Notice the pier was still called Marine West at this time. The outline of Castle Dracula and the Jack Rabbit can be clearly seen on the ticket. A special thank you to Ed Azarian for providing us one these tickets from his person collection.
BACK TO MISCELLANEOUS PICTURES
HOME | HISTORY | PICTURES | ADVERTISING | FIRE
© 2003 Dark in the Park. This site was created by Bill and Seph Cherkasky.