Please email comments or suggestions to Webmaster.

PICTURES (MISCELLANEOUS)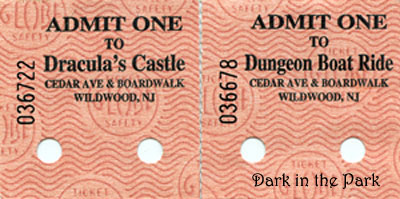 These were the tickets being used for the Castle and the Dungeon Boat Ride up until the rides burnt down in 2002. Castle manager Alan Shoesmith gave me these tickets during the 2000 season. He told me to use them for a memorial web page in the event that the castle was torn down. Well, the castle is no longer around, so here are the tickets.
Before these tickets were used, you would have to buy individual Nickels' Midway Pier tickets to enter the castle or Dungeon Boat Ride. At one time, you were even able to buy a bracelet to ride all the rides on the pier.
BACK TO MISCELLANEOUS PICTURES
HOME | HISTORY | PICTURES | ADVERTISING | FIRE
© 2003 Dark in the Park. This site was created by Bill and Seph Cherkasky.