Please email comments or suggestions to Webmaster.

PICTURES (Mirror of Death)
1st season, 1977
provided by Donal O'Hanlon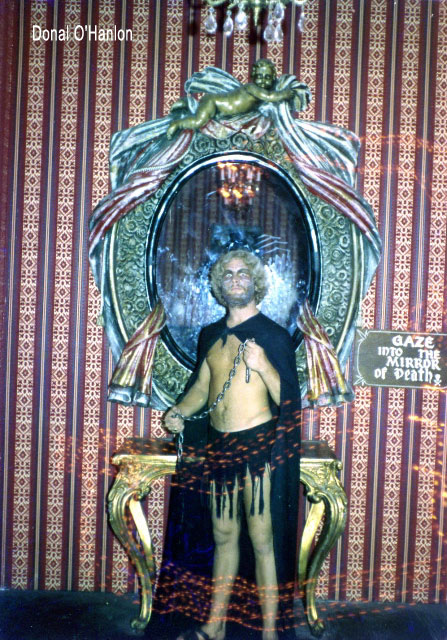 Former castle actor Mike Close...possibly as an extra in an episode of Gilligan's Island. Mike is standing in front of the Mirror of Death in an area which later became the crush and seance rooms. According to Anita Fritsch-Wheeler, a former castle actress and manager, the mirror was actually two rooms made to look alike. The rooms were separated by a sheet of glass made to look like a mirror. Uncle Theo was a talking head that was under the mirror and would talk to the guests. The actor that controlled him was in a side room that later became the make-up room. This 1977 photo was provided by Donal O'Hanlon, a former castle actor.
HOME | HISTORY | PICTURES | ADVERTISING | FIRE
© 2003 Dark in the Park. This site was created by Bill and Seph Cherkasky.